How to Buy
Step 1 - Download
We distribute our software electronically. After downloading an app, take it for a spin. Feel free to play with it for as long as you need but note that after an initial trial period, some limitations may apply.
Step 2 - Purchase a License
If you decide to keep using the app, you have several options: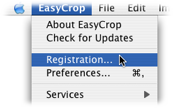 Option 1: In-app Purchasing
Just select "Registration..." from the application menu and follow the on-screen instructions from there.
With in-app purchasing, your registration information is automatically saved and the app is immediately registered.
Option 2: Web Store
Visit the product page of the software you wish to purchase and click on the "Buy Now" link near the top-right corner of the page. You can also visit our webstore for the product catalog.
Shortly after the transaction is completed (usually within a minute), you will receive your serial number in an email. Select "Registration..." from the application menu to enter your serial number and registration name.
Option 3: PayPal
Send the appropriate amount via PayPal to paypal@yellowmug.com. Please include a short note with your name, email address and the product(s) you wish to purchase.
Using this payment method, please allow up to 48 hours for your product serial number to arrive in an email.
For more information, please don't hesitate to email us.